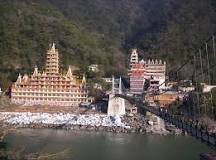 Rishikesh is town in the Dehradun District of Uttarakhand state in India.Rishikesh is situated at 409 meters above sea level in the foothills of Garhwal Himalayan Range and surrounded by the Shivalik range. Rishikesh is 35 kms far from Haridwar, 90 Kms from Mussoorie, 25 Kms far from Jollygrant airport Dehradun, and 240 kms far from New Delhi. Rishikesh has spectacular view of jungle-clad hills. Rishikesh has also confluence of River Ganges and Chandrabhaga. The glorious attraction of Rishikesh is none other than the great river Ganges herself, running rapidly throughout the city. In the ancient time and still so many yogis, rishis, sages and sannyasis attracted to Rishikesh to practice yoga in this peaceful location. Since then, Rishikesh has known as an abode of sages. Rishikesh is a holy town with so many Ashrams and it is famous for the yoga world wide. Rishikesh is now world famous as a Yoga Capital of the world. Every year during the March month one week long International yoga festival is hosted by Rishikesh.
Rishikesh is a small town and a municipal board in Dehradun district in the northern state of Uttarakhand in India. Scenically located where the Holy Ganges River comes down from the Himalayas. Rishikesh, also spelled Hrishikesh, Rushikesh or Hrushikesh. Rishikesh catapulted to Western fame when the Beatles dropped by for a visit to Maharishi Mahesh Yogi's Ashram. Rishikesh is associated with Lord Rama and Laxman. The town of Rishikesh lies in the foothills of the Himalayas of the Garhwal region. It is the gateway to the upper Garhwal region and the starting point for the Char Dham pilgrimage (Gangotri, Yamunotri, Badrinath and Kedarnath) and an ideal destination not only for pilgrims but also for the people who are interested in adventure, medtation, yoga and other aspects of Hinduism.
Rishikesh is the7th largest city in India. It is also called as the "Gateway to the Garhawl Himalayas". The town is a famous tourist spot and also a major pilgrimage spot for the Hindus. The River Ganges flows through the town of Rishikesh and it is famous for its various shrines and yoga ashrams. Rishikesh also is among the few places in India that offers a multitude of adventure sports to its visitors. With the city of Haridwar only a few miles south from rishikesh, the place is also considered as a 'holy city' and is vegetarian.
Situated along the convergence of Ganga and Chandrabhaga, Rishikesh on the foothills of Himalayas is the hub of many ancient temples, popular cafes, yoga ashrams and adventure sports. Rishikesh, over the years has become extremely popular as the top spiritual destination in the world, especially after the Beatles association with Maharishi Mahesh Yogi here in the late '60s. As it lies on the holy banks of river Ganga, this place has been a hub of Sadhus (saints) and there are numerous ash