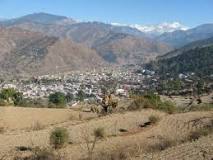 Situated at an elevation of 1,220 meters above sea level, Barkot is one of the popular destinations situated in the Uttarkashi district of Uttarakhand, India. The district is a part of Garhwal division. The Barkot city is surrounded on the north by the Dehradun district, on the northeast by Tibet, on the east by Chamoli, on the southeast by the Rudraprayag district and on the south by Tehri Garhwal district.
Barkot is a hill station, located in the higher Himalayan ranges. It receives water from two holy rivers, namely Ganga and Yamuna. The Yamunotri Dham is around 50 Km far from Barkot. A large number of devotees stay here on their visit to Yamunotri Dham. From Barkot, one can easily view magnificent peak of Banderpoonch and other massive peaks of the Himalayan range. This hill station is an ideal holidaying and adventure destination for nature lovers and adventurers as the place proffers with many beautiful scenic views and trekking excursions. The apple orchards, ravishing landscapes and gushing water of the sacred river Yamuna are the prime attractions of this place. The nearest big town to Barkot is Tehri Garhwal, at a distance of about 90 Km.
A hill station in Uttarakhand, Barkot is known for its scenic natural beauty. Located at the confluence of Yamuna and Tons Rivers, Barkot is situated in Uttarkashi district of Uttarakhand. At an elevation of over 4,000 ft, Barkot offers panoramic views of the snow-capped mountains of Bandar Poonch. Barkot is an important stopover en route to Yamunotri and Gangotri, which are two out of the four Char Dham pilgrimages.
Barkot, a picturesque destination amid the gigantic peaks of the majestic Himalayas falls in Uttarakhand's Uttarkashi district. It's very close to the Yamunotri Dham. The mesmerizing landscape of the region, the delectable apple orchards, the gushing Yamuna River all adorn Barkot with an irresistible natural beauty that draws nature lovers, adventurers to Barkot from far and wide. Today Barkot has developed into a prominent holiday destination.